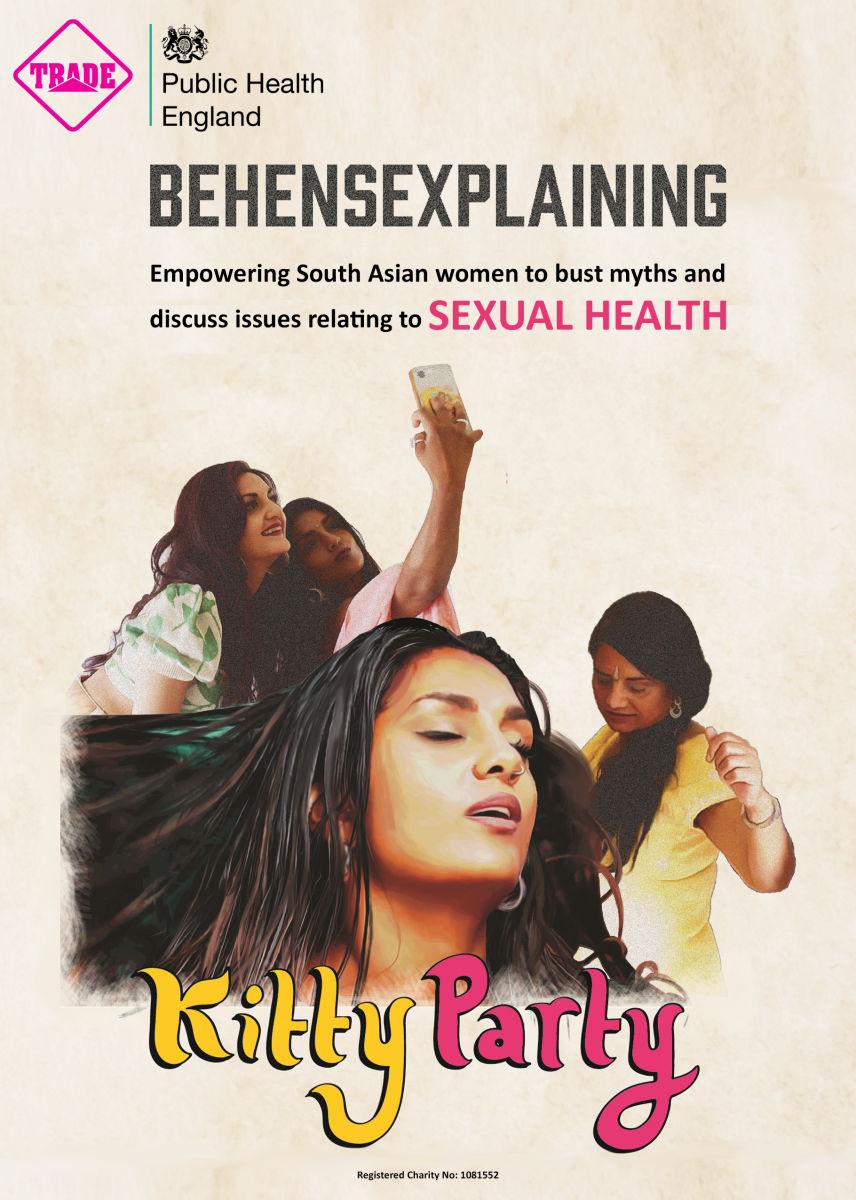 About:
Behensexplaining is a new project funded by Public Health England's HIV Innovation Fund, to empower South Asian women to increase confidence and knowledge when talking about sex, sexual health, HIV, and contraceptive options.

The Project:
The Kitty Party idea originates in India, as an informal savings club. It is a kind of party organised by women, and on a monthly basis. 'Kitty' refers to the amount collected at the party, every member contributing a certain sum of money each month.
This is the first time Trade has delivered a project for, by and about South Asian women. Behensexplaining is inspired by:
The Kitty Party
Indian Serial Dramas
The Behensexplaining initiative takes the ethos of the Kitty Party, by collectively encouraging Behen's (sisters) to contribute their time and energy towards building stronger, healthier and more empowered communities.
Below, you will find three short films which uses the popular style of Indian TV serials/dramas which are an important way to start difficult discussions such as sex and sexual health.
Behensexplaining - Relationships
Behensexplaining - HIV & STIs
Behensexplaining - Contraception
September 2021 saw the launch of our first Kitty Party in Leicester. This event kick-started and cultivated important conversations across South Asian women's groups. This ground-breaking initiative is helping to reduce stigma, while busting myths and misconceptions surrounding sexual health, sexual violence, sexual abuse and sexual expression.
Project aims:
Increasing awareness and access to sexual health and contraception services.
Empowering South Asian women to discuss issues relating to sexual health.
Busting myths surrounding sex, sexual health, contraception, sexually transmitted infections (STIs) and HIV.
Providing confidence for South Asian women to deliver their own Kitty Party-styled events.
You may all recall hearing about our Kitty Party Project; this is based around educating and raising awareness about sexual health in a fun and intimate setting for a group of women. The Parties themselves can be delivered in a variety of forms, such as a get-together with food, a coffee morning, a cultural event etc..
Initially we aimed the delivery of these Kitty Parties for women from a South Asian background in Leicester, particularly as the project was inspired by the savings club "Kitty Parties" concept from South Asian culture, however, we are looking to expand this.
We are now excited to announce the opportunity for the general public in Leicester, Leicestershire and Rutland to deliver their own Kitty Parties in their own style and we welcome any creative ideas!
As this is an early point of the project, we are open to new directions, however, we have a guidance booklet to help you throughout the process.
If you would like to talk about delivering a Kitty Party for you and your friends, a club or society, in your community, family, or organisation, or to get access to the Kitty Party Handbook, feel free to get in touch with Trade through the contact information below:
Contact:
0116 254 1747