Monday, 15th February 2021
According to Public Health England, Leicester has one of the highest rates of late HIV diagnosis in England, with over half of new diagnoses of HIV being after someone had acquired the virus years before. What this means is that many people are living with HIV but not known they have it and could still be passing it on without knowing.
As a city we need to eradicate the stigma, shame, and attitudes around being tested for HIV … Here's 5 reason why we need to regularly test for HIV.
1. The Knowledge of your status
"Knowledge isn't power, applied knowledge is power" – Eric Thomas
Testing is the only method to determine if someone has HIV with many people living for years unaware that they have the virus. According to Public Health England (PHE) people diagnosed late with HIV are estimated to have been unaware of their infection for at least three to five years. Their data also revealed that Leicester's late HIV diagnosis rate is 55% (that's over half of all new HIV diagnosis), compared to the national average which is 42%.
The frequency at which someone should test varies from person-to-person factoring in how many sexual partners they have both new and existing. As a base level, everyone should be tested for HIV at least once a year if they are engaging in condomless sex (including those in committed relationships). Those who have multiple sexual partners should test once every 3 months.
---
2. Easy access
"At Trade, testing is free, accessible, confidential, quick and always easy" – Trade
Unfortunately, COVID has put a halt to many of our face-to-face HIV testing services including Kwik Prick rapid HIV testing and our full screening clinics in partnership with Leicester Sexual Health, such as CLINIC xtra and sauna clinics.
However, you can order a free postal home testing kit from our website, where you provide you own blood sample. Once your home testing kit arrives, we have a few options to aid you with the process.
You can easily access our demonstration video online, where we show you the process step-by-step. Alternatively, you can also book an online remote assisted sampling session where we will talk you through the process in real time and well as providing any support you need at the time.
If you've been unable to get enough blood that you need for the sample and the video or remote assisted options are not accessible for you, then get in touch with us to discuss other options.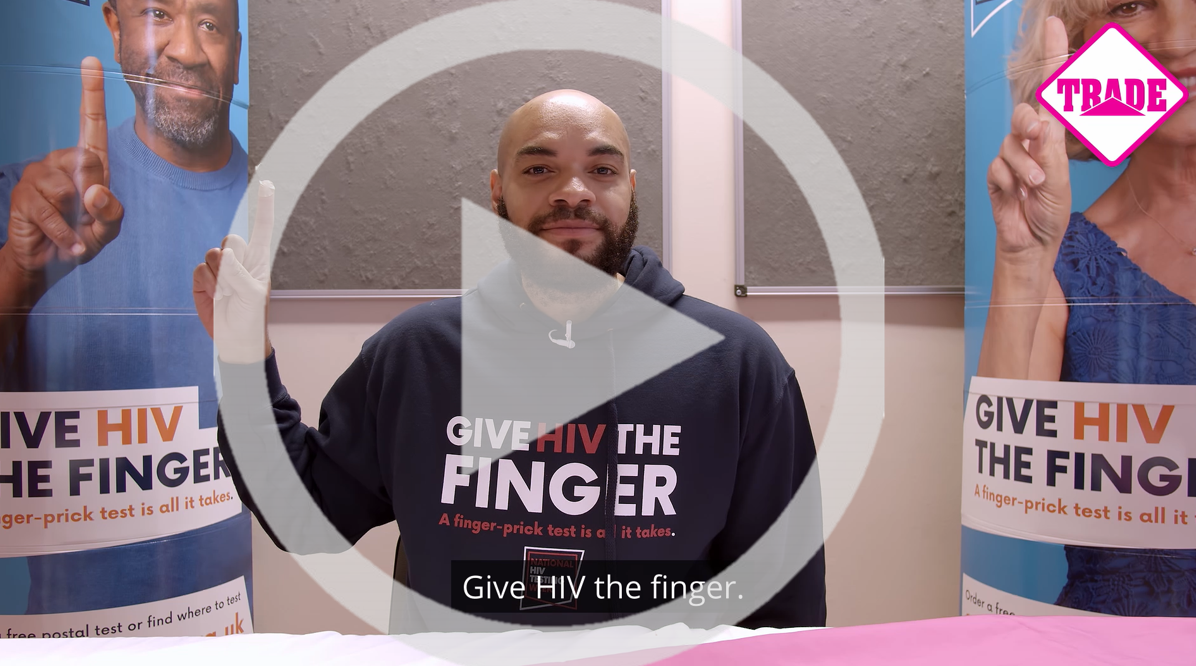 HIV blood sampling demonstration video
Please email to book an online remote assisted sampling session.
---
3. 'Cause it's all about control, and I've got lots of it
"I don't wanna rule the world, just wanna run my life, so make your life a little easier ... When you get the chance just take control" – Janet Jackson
Remaining implicit and in the dark could have some damaging effects to the overall health of you and your partner/s. If you test positive, you can access free treatment to keep you healthy. If you test negative, you can decide upon what form of safer sex practices work for you to remain negative.
Taking control isn't just about testing, it also includes consent and deciding upon which kind/s of safer sex practices best work for you and the types of sex you enjoy, at Trade, we use the slogan 'The best sex with the least harm'.
We are all different and enjoy a wide range of sex and safer sex practices, its not a 'one fits all' scenario. What works for you may not work for another person or even your partner/s. Sex is there to be enjoyed but, we also have to factor both the risks we are taking and what precautions we can make to reduce those risks.
For help and advice on reducing your sexual health risks please email or call the office. 0116 254 1747
---
4. Keep you and your sexual partner/s healthy
"Do the best you can until you know better. Then when you know better, do better" – Maya Angelou
HIV does not discriminate, it doesn't care if your rich, poor, young, old or your care about your ethnicity. Most new HIV transmissions are from those who are unaware of their status and subsequentially not on treatment. In Leicester, only 60% of those been offered a HIV test within sexual health clinics agree to take one. Regular testing, knowing your status and being on treatment is the only way you can make the steps to prevent you passing HIV onto your sexual partner/s when having unprotected sex.
By 'Do better', we mean for you to choose upon which safer sex practices best work for you. Below are some practices to aid in risk reduction of HIV transmission.
Condoms
Both internal and external condoms will create a barrier that reduces the risk of HIV being transmitted from one person to another.
As well as purchasing condoms, in Leicester, there are a few additional options where you can obtain free condoms and lube.
At Trade we offer this free service for gay and bisexual men and other men having sex with men to order through our website or to pick up from the Trade office and across most of Leicester's LGB&T venues.
Order your safer sex packs for men here
We are also part of the C Card scheme where anyone, aged 13+ regardless of gender or sexual orientation can register and pick-up C Card packs which include condoms and lube from us and a range of venues, including all Sexual Health Clinics and many schools, further education colleges and pharmacies in Leicester, Leicestershire and Rutland.
Pre-exposure prophylaxis (PReEP)
A medication in the form of a tablet that can be taken daily or event-based by anyone to reduce the risk of HIV being transmitted to them when having condomless sex.
PrEP is currently available for people who are on the PrEP Impact Trial or can buy it privately online. You can now be added onto the waiting list for PrEP from Leicester Sexual Health.
Visit the Prepster website for more information
Getting tested
Getting tested regularly also helps to reduce the risks of HIV transmission, someone can be living with HIV for up to 5 years without experiencing an symptoms. With this in mind, as well as said person not being tested, we can how easy it is for HIV to spread amongst someone's sexual partner/s. As mentioned earlier the frequency of which should test depends on how many sexual partners they have and if they are using condoms or PrEP.
Order your home testing kit here
---
5. In the UK, access to HIV medication and care is free for all
"Illness is neither an indulgence for which people have to pay, nor an offence for which they should be penalised, but a misfortune the cost of which should be shared by the community" - Aneurin Bevan (Founder of NHS)
In Leicester, there are several organisations that offer free services to help support people living with HIV. In addition to support services, many organisations like ourselves offer community lead activities and groups, creating safe spaces for people to socialise. These services are not only for those who were born here but, also free for new arrivals.
We have come a long way in treatment and care with new technologies and broader access to sexual health clinics and treatment. Somebody living with HIV can have an undetectable viral load, which means once they are on treatment they can get to a stage where the HIV in their body can be so low that it can't be passed onto another person. This is U=U - Undetectable = Untransmittable.
Trades own Christian and Salim recently discussed these 5 reasons to test for HIV as part of the National HIV Testing Week 2021, transmitted from Facebook LIVE.
Click the video to view the conversation.