Wednesday, 15th November 2017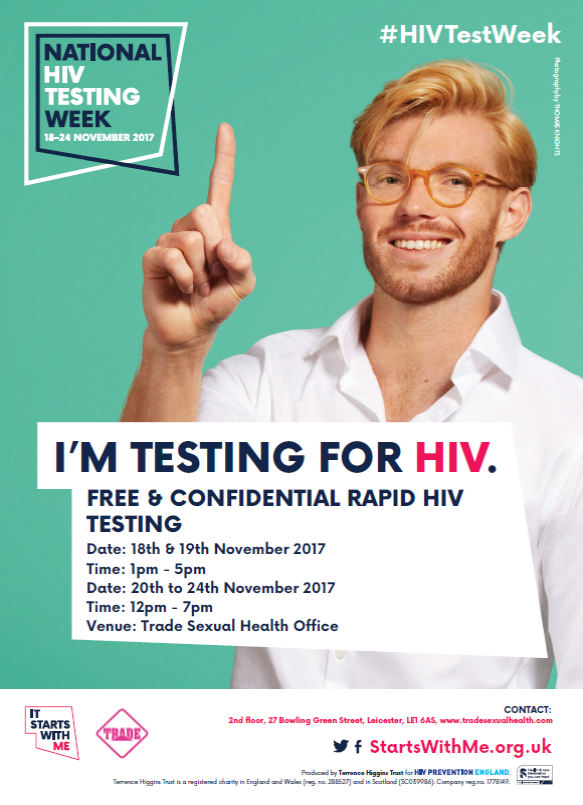 National HIV Testing Week (NHTW) starts on 18 November 2017. The purpose of the week is to promote regular testing among the most affected populations and to reduce late diagnosis rates.

Last year hundreds of clinics and organisations participated by raising awareness, providing extra testing opportunities and promoting services.Trade is taking part in this campaign by offering rapid HIV tests for local LGB&T communities.
Throughout National HIV Testing Week we will be offering a 7-day drop in testing service from the Trade office where you can get your HIV result in minutes.

The different elements of National HIV Testing Week work to complement and amplify existing local services, find out here what we have planned and how you can get involved.
To launch National HIV Testing Week in Leicester, Leicestershire and Rutland. Trade and LASS have invited Liz Kendall MP and Jon Ashworth MP to visit our offices on 17th November 2017. This is part of a national project for local MPs to support HIV testing. On Friday 17th November 2017 at 11.45am, Liz Kendall MP will be taking a HIV test at LASS and talking about why HIV testing is important. At 2pm Jon Ashworth MP will visit the Trade offices to support the National HIV testing campaign.

It's a great start to what Trade and LASS have planned for HIV testing week and we look forward to their visit.
We will be promoting the campaign in our local gay venues around Leicester!
It is a great opportunity to engage with scene goers, giving out freebies and invitations to test.
15th & 22nd November in Dover Castle 9pm - 10pm
17th November at Rainbow & Dove and Bossa 8.30pm - 10pm
Can't make our National HIV Testing drop-in times? Why not order a free HIV postal test online here

Share your support of this campaign - share, repost and retweet National HIV Testing week social media content using #HIVTestWeek