Wednesday, 13th November 2019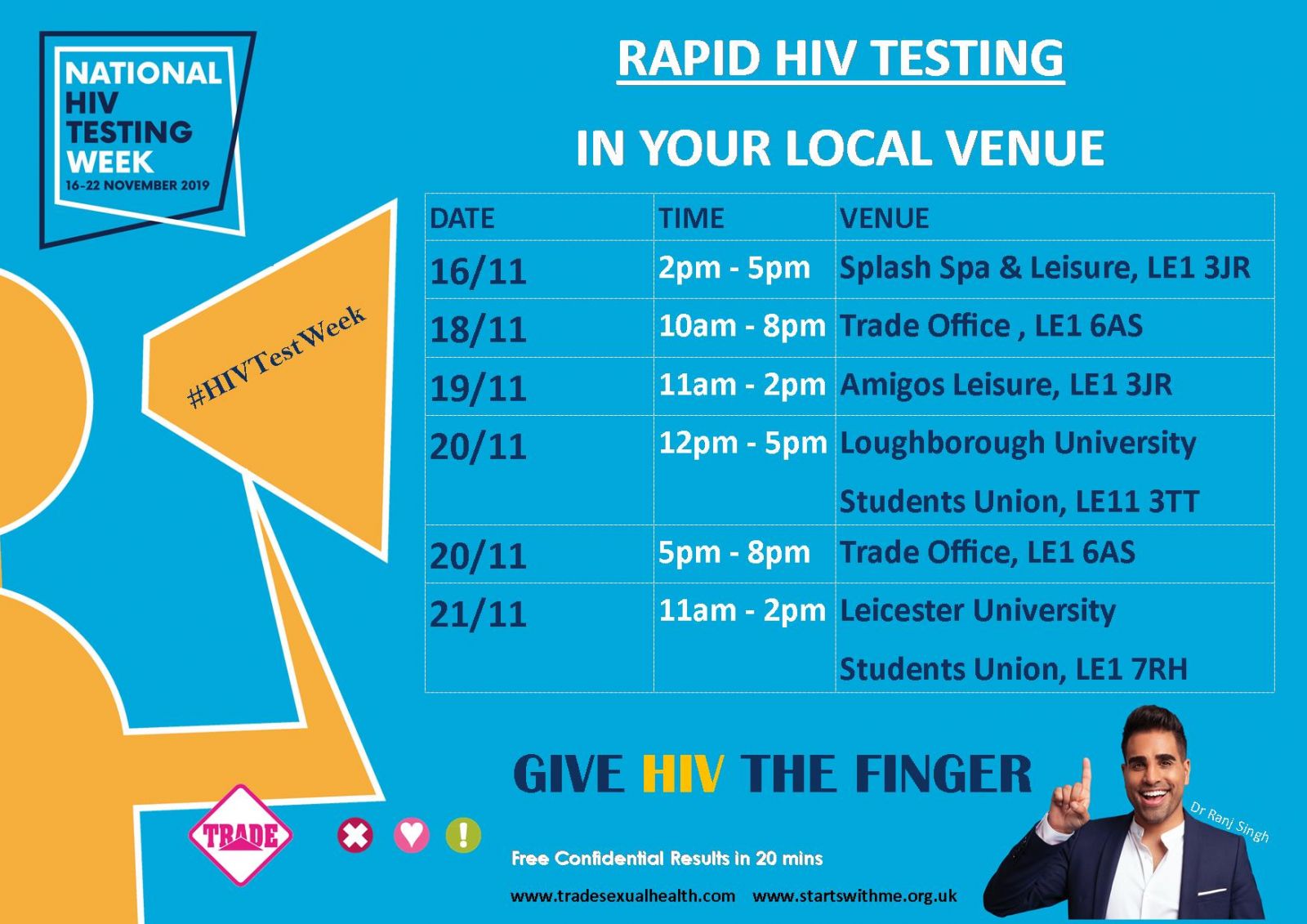 National HIV Testing Week is a national campaign to promote regular HIV testing. It starts on Saturday 16th November 2019 and aims to reduce the rates of undiagnosed people and those diagnosed late. This year, national and local organisations run campaign events, provide extra testing opportunities, and promote HIV testing and prevention services like ours.
Key campaign messages:
Testing is necessary to diagnose HIV and prevent onward transmission.
A finger-prick test is all it takes*
You can be assured that, if diagnosed with HIV, you can access free treatment and support.
This year we want to encourage the local LGB&T communities to test out, taking testing into the community.
We will be running rapid HIV testing sessions in a range of venues to give LGBT people, asylum seekers and people who may new to the city to have an opportunity to test.
Places include: Leicester University, Loughborough University, DeMontfort University, LGBT venues.
Our schedule:
Saturday 16th November 2pm - 5pm - Splash Spa & Leisure, 61 Bedford St South, Leicester LE1 3JR (Self-identifying men only)
Monday 19th November 10am - 8pm - Trade Sexual Health Office, 27 Bowling Green Street, Leicester, LE1 6AS
Tuesday19th November 11am – 2pm – Amigos Leisure, 30 Bedford St S, Leicester LE1 3JR
Wednesday 20th November 12pm - 5pm - Loughborough Students' Union, Dance Studio, Floor 1, Union Building, Ashby Rd, Loughborough, LE11 3TT
Wednesday 20th November 5pm - 8pm - Trade Sexual Health Office, 27 Bowling Green Street, Leicester, LE1 6AS
Thursday 21st November 11am - 2pm – Leicester University Students Union, Percy Gee Building, University of Leicester, University Rd, Leicester LE1 7RH
Say Yes to Test! - It starts with you, me, us and together we are stopping HIV.
* For more information about testing we provide click here.